Monday, December 10, 2007
Announcing the arrival of Hosanna Marie!

December 10, 1:42 am
8 lbs. 12 oz.
19 1/2 inches long

Pics to come, I promise. :-)
Posted by

Sharmista
at 3:32 PM
2 comments:

Wednesday, December 05, 2007
Well, I've been meaning to blog. I just haven't. The baby is not here and I haven't felt like doing anything. I meant to post pictures of all the snow - we got over 8 inches last weekend and more last night. I meant to post about my lovely birthday, complete with pictures. I meant to post a cute picture of Ruby wearing Kordell's snowpants and looking very much like an oompa-loompa.

I just haven't yet.

So, excuse the very pregnant woman and her good intentions. I will give you something to look at one of these days. Hopefully it will be a baby. I am due tomorrow.
Posted by

Sharmista
at 8:25 AM
3 comments:

Saturday, December 01, 2007
Well, now would be just the time for the baby to come. There's a huge snowstorm blowing in and the weather outside is certainly frightful!! Nothing is happening with the baby just yet, but babies have a tendency to have terrible timing, so maybe... For now, we will hunker down inside and wait.
And while you wait for news from us, here is a picture to enjoy. Taken yesterday, 39 weeks 1 day. The baby spent all day yesterday trying to push its butt out my bellybutton and wedging its feet in my ribcage for leverage. Very comfortable... uh huh.... any day now baby!!!!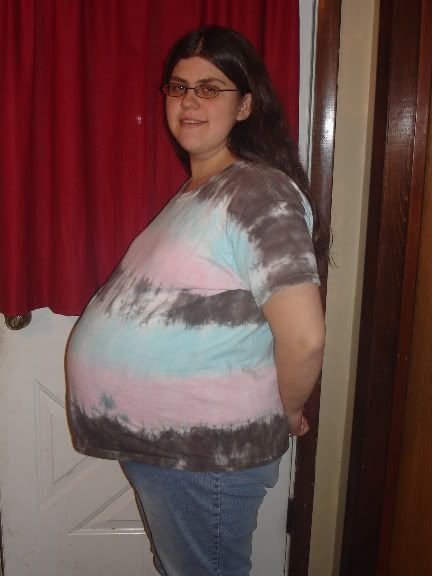 Posted by

Sharmista
at 11:35 AM
2 comments: