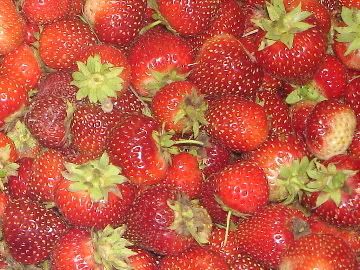 Today was a "berry" good day. The berries from the farmer's market had given me a hankering for more fresh berries and I decided to try my hand at picking my own. I got up early and headed out to a local strawberry patch. I've never done this before, at least not that I can recall, but how hard can it be?
When I got to the berry patch, there were a bunch of people already there. Apparently 7 am is for lazy berry pickers. They had been there for awhile. Anyway... a girl of about 16 led me out and plunked me in a row. She didn't really impart any wisdom or say anything at all past "Hi" and "here you go." I think my row had been picked over before I got there. I wasn't finding much for quite awhile. I was starting to question whether this was such a good idea.
So I started to pray for berries. I should have done that when I got there, but better late than never right? Sure enough, after I prayed and started focusing on the blessings of a quiet berry patch and a lovely day, I started finding lots of nice berries. Thank you Lord!! I filled my box, and headed out.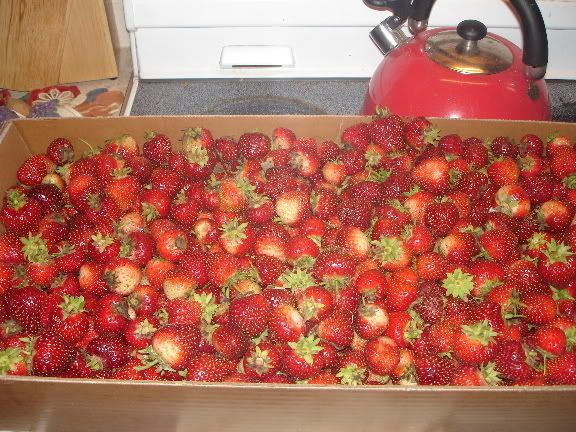 I picked 12.35 lbs of berries and it cost $14.75! That's a big savings over buying them at the grocery store. And we will have fresh, locally grown berries in our freezer when they are out of season. Yummy! I spent the rest of my morning and part of the afternoon washing, capping and freezing my berries. I've got 6 quart bags full in the freezer now!
I went out to get the mail and check on my garden. My swiss chard was looking SO good! I brought some in to have with our supper. It is my very first harvest from my garden. Just look at it! It's so beautiful!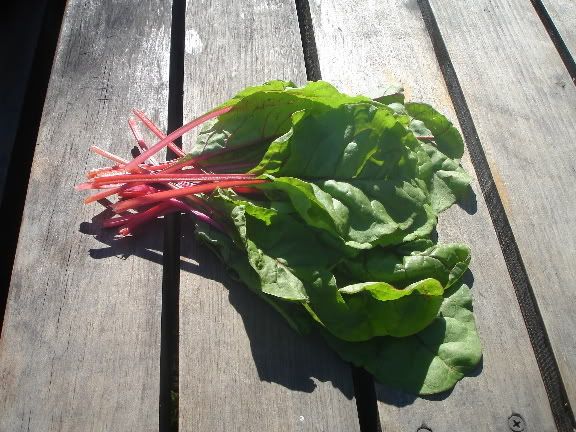 We had a wonderful, fresh dinner tonight with my day's finds. I mixed the chard with the spinach I bought at the farmer's market. The red stems added such nice color. Strawberries were next - an egg slicer made short work of those. Then I cooked up a chicken breast with a little onion and made a ginger-lime dressing to put on top. I also baked some whole wheat buttermilk biscuits to round out the meal. It was so beautiful I had to take a picture.

So simple. So delicious. I love cooking in the summer!