No, we did not disappear off the planet. Life with a new baby just takes a lot out of a person.
I've not properly introduced our new addition. Here is our new little angel...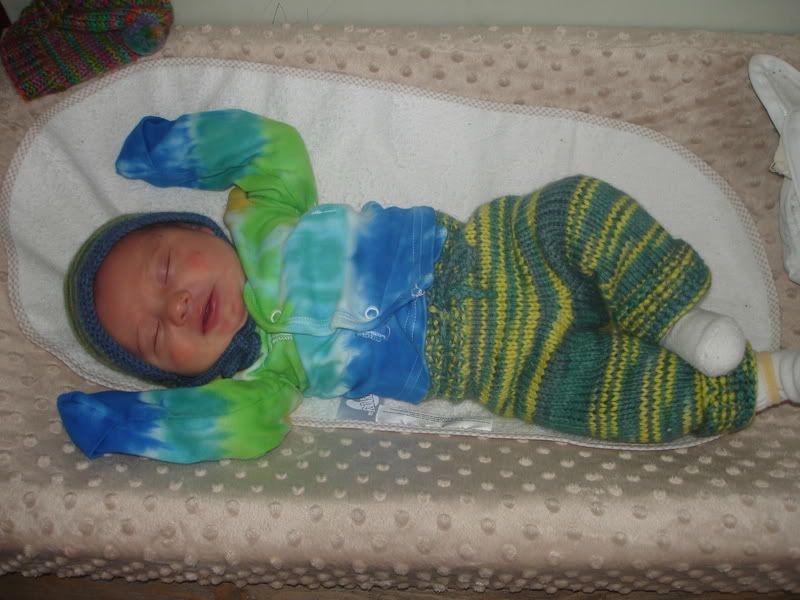 She is, of course, wearing knits that I made for her. Had I known she was a she, I would have knit something a bit more PINK. Never fear, I have pink things in the works. She really is a good baby. We got off to a rough start with some feeding issues, but she is doing very well now. Almost a month old, and she is already changing! How is it that babies grow so fast?
In other news... Christmas & New Years were very enjoyable. We got to see all the family and the kids had a great time. We were blessed many times over by the generousity of others in our family & community. God was very good to us, providing much more than we expected to have for Christmas.
We did have a little trouble. Our breaker box started shooting out sparks on Dec. 23 and needed patching on the 29th so our house wouldn't burn down while we were up north. We need to replace the whole box. That will happen soon. We also had our truck break down twice - on the 23rd and the 29th. It was quite a week, let me tell you! The truck was in the shop twice and is finally fixed, 8 spark plugs, 2 coils, and $650 later. But, I say again, God is good. All the money was provided for the truck repairs, and we had a friend lend us a vehicle when we needed it. We know that He will provide what we need for the breaker box as well.
Other than that, life is slowly getting back to something resembling normal. We hope to start school again next week. We've taken the last two months off, so I'm not putting my hopes too high for a smooth restart. We will see.