Travel back in time with me... 3 weeks ago we had a joint party for Kordell & Ruby's birthdays. We did something a little different this year. We decided that our backyard was missing something - namely, a sandbox. So our gift for both of them was a BIG sandbox. Here's a picture right after Teagan finished construction. (notice they were playing in the dirt inside the box - no sand yet.) The box started out 14' square, but that was really way too big. We ended up at 10' square and it's just about right.
Seeing as how the cost of all that lumber blew our whole birthday budget, we asked guests to bring sand instead of presents. What fun it was to dump all that sand in the box!! They got quite a bit. I'm just shocked that no one got sand in their eyes with as much as was blowing around.
Here are the birthday kids with their cakes. Aren't they adorable?
Blow out the candles! Kordell got all of his on the first pass, but Ruby had to take a few tries at hers. She did really good though.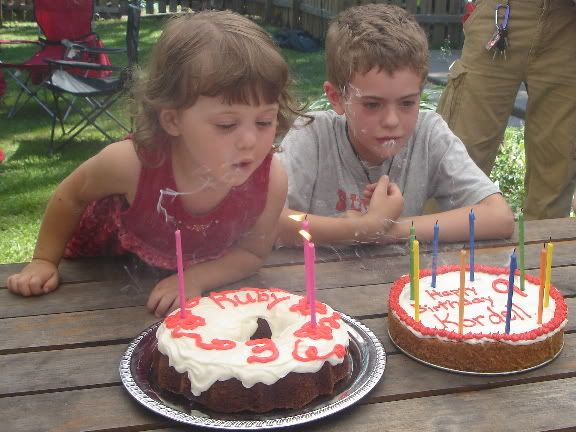 Here they are enjoying the cake. That's Gilman on the left, and Kordell's good friend Shay on the right. Crossing my fingers that she's the one... nothing like an arranged marriage! LOL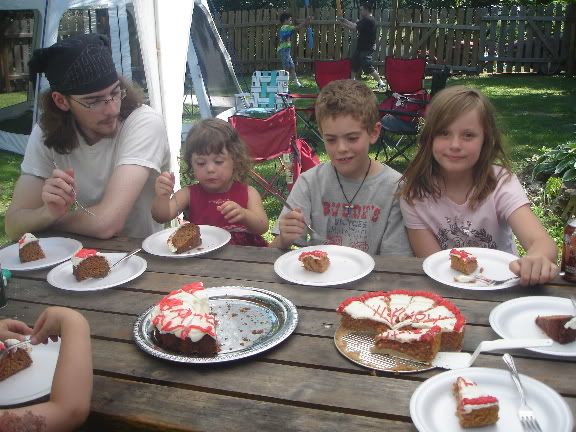 Anyway, it was a great day. We had 30 people here and everyone had a blast. The weather was absolutely perfect, which is good because we would have been a bit cramped in the house. I think we should do the same thing next year. The sandbox isn't quite full yet you know.