For today's installment of The little
Green
Project, I wanted to share a recipe.
Lately I've had a hankering for macaroni & cheese. I used to love that blue box stuff, but the more I know about food, the more unappetizing it is. I started making my own macaroni & cheese, using real, good for you ingredients. Yesterday I decided to take it up a notch and add a
green
vegetable. So "Cheesy Broccoli Penne" was born.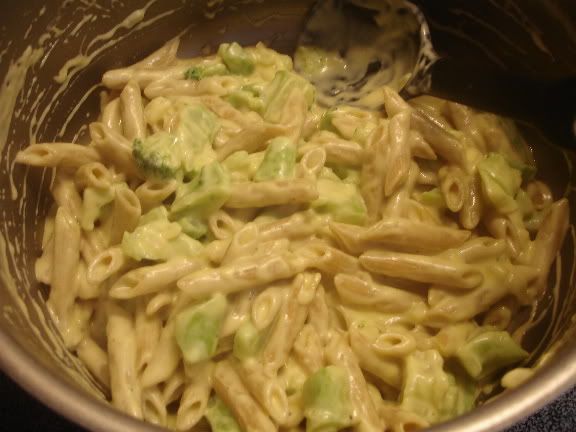 Cheesy Broccoli Penne
8 oz. whole wheat penne pasta
1/4 cup or so chopped onion
1 T. butter
1 T. flour (soft white wheat works well)
sprinkle of pepper
1 cup milk
1 cup shredded cheddar cheese
1-2 cups frozen broccoli, thawed or fresh broccoli, steamed
Cook the penne in a large pot. While it is cooking, in a 2 qt. saucepan, saute the onion in the butter. Add flour & pepper. Mix well. Add milk all at once. Cook, stirring constantly, until thickened. Add cheese and stir until melted. Add broccoli and cook, stirring often, until broccoli is warmed. By this time, the penne should be all cooked & drained. Add the broccoli cheese sauce to the penne in the larger pot. Stir to combine. Serves 4.
I was actually surprised at how fast this was to put together. It didn't take much longer than boxed mac & cheese and it is so much better for you!
For more
green
ideas, check out
Heavenly Homemakers little Green Project
!