I love a little girl in a dress.
One of the things I had to come to terms with when Jade was smaller was her lack of girlishness. She hated wearing dresses. It just wasn't in her programming. When I had Ruby and then Hosanna, I immediately began dressing them in pink, ruffles, and all manner of girly things. Then I waited to see if it would stick.
It did.
Ruby loves dressing up, and even Hosanna now enjoys wearing pretty dresses.
And I love that my little girls look like little girls. Even covered in dirt, there's no denying the girly-ness of a little girl in a pretty dress.
As spring approached, I began to evaluate the girl's clothing needs. Hosanna needed some summer clothes because I had nothing left in storage after last summer's clean out. And that was okay with me because it gave me an excuse to make her some cute little dresses.
I got some shirts on clearance at Walmart, and one brand new (with tags still on) at a rummage sale. I have tons of fabric in my stash, so I just went out to the bins and dug around until I found something that matched. Here is the finished results. Each dress took about 30 minutes to put together.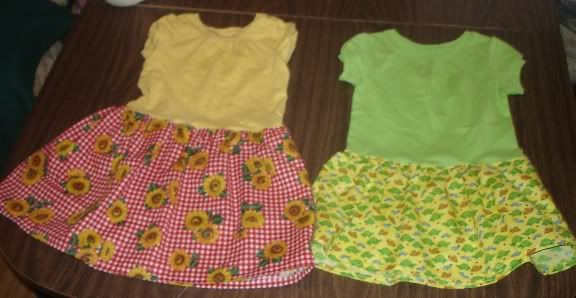 The one on the left is for Hosanna, and the one on the right is for her cousin, Abby.
These are made from the same yard of fabric that I got on the clearance table at Hancock fabrics a few years ago. It matched both t-shirts so well! But since one has the teacup border, you can't really tell. And she's not going to be wearing them both at the same time anyway.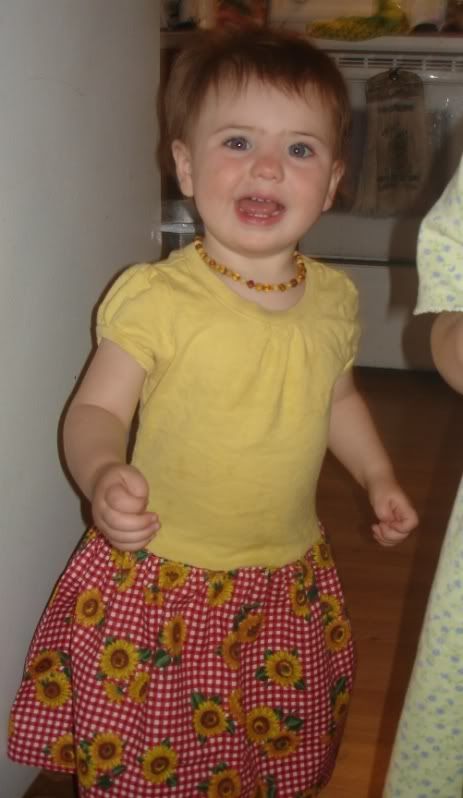 These will fit her all summer, though the skirts may be a bit shorter by fall than they are now. Each dress cost less than $5. And they are much cuter and more modest than the summer dresses I've seen for sale lately. I may make a few for Ruby too.
I love a little girl in a dress.