You probably all remember the
Lentils & Rice Experiment
. I've decided to build on that concept and experiment with different kinds of beans. I've always been a bit leery of beans, even had an all out hatred of them for awhile. But now that I'm a grown-up, and I see how nutritious and frugal they are, I am learning to like them. And, more importantly, I'm teaching my children to like them.
My focus this week was black beans. I started with them because I already use them in a lot of recipes and they are familiar to Teagan & the kids. I started with 3 cups of black beans (because that's how much fit in the jar I took to the co-op when I bought bulk goods last time.) Here's what I ended up with after they were cooked. 2 pints, 1 quart, and a cup or so for use in dinner. That's about 5 cans worth. I probably saved about 50-75% by cooking my own beans instead of buying them. Plus, I know exactly what is in those beans.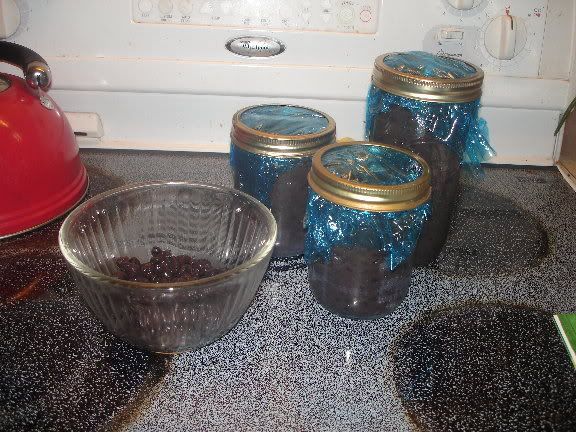 Our menu plan for the week looks like this:
Day 1: Black bean & veggie quesadillas
Day 2: Spicy Black beans & Rice
Day 3: Black bean Soup with cornbread
Day 4: Corn & Black bean Chili with leftover cornbread
These are all meals that my family already eats, the difference is that I saved a bunch of money cooking my own beans and we ate the meals all in a row instead of spreading them out over a few weeks time. I could also have canned or frozen the extra beans for later use, but I save time and packaging (freezer bags or jar lids) by just putting them in the fridge and using them right away.
I am calling black bean week a success! Next week is pinto beans. I'll start out with Mom's Bean & Ham Soup and go from there. Anyone have a recipe to share?