Today was a sad day. I woke up to this: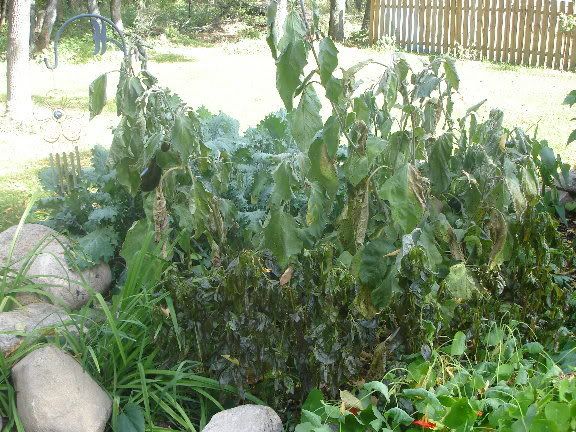 Yes, that's my garden. With frostbite.
We knew it was going to freeze. The tarp we have is only big enough to cover half of the garden. So I told Teagan to cover the tomato and the peppers. Both are still loaded with immature fruit, and if the weather rallies, they may mature yet. We've eaten a lot of eggplant and I knew the kale would survive, so we left that end uncovered.
What I didn't take into account, or didn't remember, was the basil was on that end. I had been planning to pull it all out before we got frost and make pesto to freeze. There was a ton of basil out there. And I totally forgot about it last night in my haste to save the other veggies. All of my basil froze. I was so so bummed.
We harvested the remaining eggplant, all the lima beans (it froze too), and the last few broccoli heads. Then we pulled up all the frozen plants. Teagan found a few (very few) basil leaves that had been hidden enough to be saved. I was grateful to have even a little.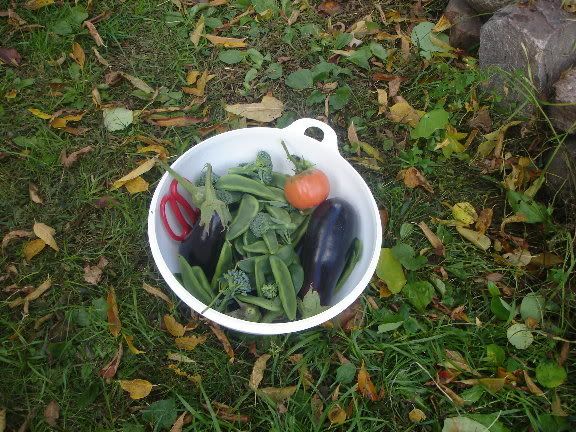 We celebrated the day with one last Eggplant Parmesan. I used up the last 5 little eggplant, the last bit of basil, and all the ripe tomatoes. We relished each bite and talked about how good it would taste next summer when the garden was in full bloom again.
It surprised me a bit how sentimental I am over my garden. I suppose that's a part of being a gardener. The thrill of spring & planting, the joy of a bountiful harvest, and the sadness when frost comes. I am so thankful for it all.
"There is a time for everything, and a season for every activity under heaven:
A time to be born and a time to die,
A time to plant and a time to uproot..."
Ecclesiastes 3:1-2