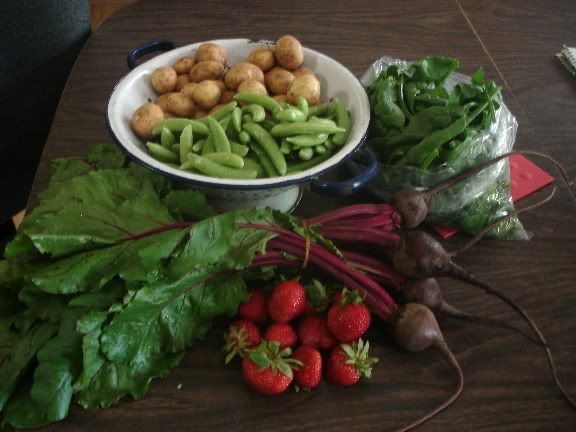 Saturday we had to run to the bank. I thought it might be fun to check out the farmer's market downtown since I've never been there and we were using the gas to drive to town anyway...
Oh.my.goodness!! What a beautiful thing we discovered! Fresh, locally grown vegetables. Homemade baked goods. Unique crafts. Even coffee! I was in love! The prices are good and everything is so fresh. We came home with baby potatoes, sugar snap peas, spinach, beets, strawberries, and a bar of goat milk soap. The coffee & cookies didn't make it all the way home.
So, I'm thinking, this is going to become a weekly event. Next time I'll take my
BabyHawk
for Hosanna and some
chico bags
to carry the goodies home. And I'll drop Teagan & the munchkins off at a park to play. Wrangling all 6 of us through the market was a challenge to say the least. But oh, so worth it!! I am loving cooking with fresh veggies again and will be meal planning around my farmer's market finds.